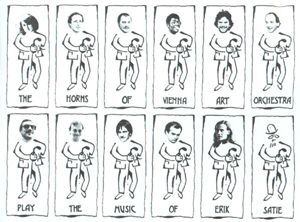 This website is about the Vienna Art Orchestra, which is a European based Jazz band (some will say Big Band). Those who like modern Jazz will surely enjoy listening to this group of talented musicians.
The VAO is somewhat unknown to wide audiences, and thus it's hard to find their albums, and even information about them. The main purpose of this site, is to help people who are trying to find information about the VAO, by maintaing a complete as possible discography of the band. The discography includes cover graphics, list of tracks, musicians line-up, liner notes, and other related information, of each album.
If you own a VAO album, please Email me the details that are missing from the discography.
E. D. Rivlis